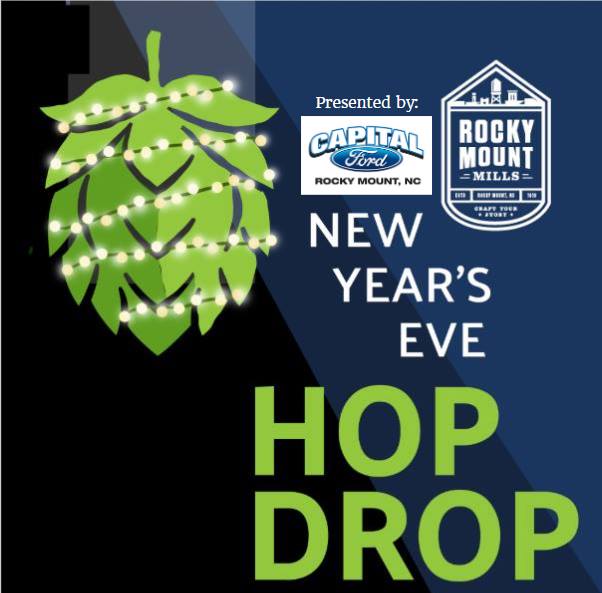 New Year's Eve HopDrop
Overview
Follow the New Year's Eve HopDrop Facebook event for updates!
Save the Date and ring in 2019 at Rocky Mount Mills' first annual Hop Drop.
It's the party of the year! The end of the year marks a magical night full of good company, delicious food, drinks, elixirs, craft beer, laughs and memories that you'll still be talking about next year! Ring in the New Year with your favorite breweries, bottle shop and restaurants at the Rocky Mount Mills' HopDrop!
An evening to include: a campus crawl leading to the HopDrop in the Rocky Mount Mills; Stray Local out of Wilmington NC will be in Goat Island Bottle Shop and Dizzy Parker is back in town and will open for the Balter Brothers and a LED Hop to drop from the Rocky Mount Mills Mount Mills water tower at midnight.
Campus tenants (Koi Pond Brewing Company, TBC West: Taproom & Tacos, Tap1918, BDD Brewing Company, Rocky Mount Brewery, Planetary Elixirs, Hop Fly Brewing Company, Goat Island Bottle Shop and Tipsy Tomato)will have pre and post party festivities to celebrate the New Year.
Schedule and Details of Events:
Rocky Mount Mills Campus Crawl

Starts any time after 5:00pm. See the Campus Crawl FAQ below for details!

Stray Local (folk), 8:00pm in Goat Island Bottle Shop
The Balter Brothers (classic rock) , concert in The Power House at Rocky Mount Mills

Show starts at 9:00pm
Cover Charge is $10.00 (cash or credit) at the door
OR complete the Campus Crawl with 5 campus bottle openers/keychains with a glow necklace
Tap1918 will operate a full bar (campus beer and specialty cocktails) in the event space

Dizzy Parker (pop rock) will be hopping around throughout campus.  Follow the Facebook event page and/or RockyMountMills.com for Dizzy's complete schedule.
Tap1918 will also be selling their tavern style favorites inside the main Mill lobby to include appetizers, tap signature cocktails and campus craft beer.
DJ Greg will be spinning in the Mills starting at 10:30pm. Weather dependent.  DJ Greg will either be near the Water Tower or inside the main Mills lobby.
The Hop Drop. Start gathering around the Water Tower end of campus at 11:30pm. We will drop a giant hop to celebrate the New Year!
After the Hop Drop

Tipsy Tomato is teaming up with the brewery incubators and setting up the mobile pizza oven in the beer garden as well as DJ Greg.
Tap1918 (Full kitchen will be open until 1:00am)
FAQ Rocky Mount Mills Campus Crawl
Q: What is the campus crawl?
A: The term "pub crawl" originated in England where, much like downtown Annapolis, small pubs and taverns are within walking distance of one another. Partygoers could go from one tavern to the next stopping for one drink at each establishment. In this particular case, you will have the opportunity to sample a variety of locally produced craft-brewed beers and/or items from Rocky Mount Mills restaurants and breweries along the way!
Q: What if I don't want to "crawl"?
A: Rest assured; neither crawling nor drinking is required. Our goal is to provide you with a different evening of entertainment and an enjoyable experience at Rocky Mount Mills. This experience includes craft beer but also includes purchases of food and/or nonalcoholic drinks (especially for the DESIGNATED DRIVERS).
Q: Which breweries and restaurants do we visit?
A: All Rocky Mount Mills' campus tenants are participating. Tap1918, TBC West: Tacos & Taproom, Tap1918, Koi Pond Brewing Company, Goat Island Bottle Shop, HopFly Brewing Company, BDD Brewing, Rocky Mount Brewery and Planetary Elixirs.
Q: How does it actually work?
A: At your first stop tell them you want to participate in the campus crawl.  With the purchase of one item, you will receive a glow necklace and bottle opener/key chain from that place of business.  Once you have your glow necklace, collect at least 5 bottle openers/key chains from any of our 9 tenants and that will be your ticket into The Power House to see The Balter Brothers, starting at 9:00pm.
Q: Can we take pictures?
A: Sure!!! How else are you going to show all your Facebook friends how awesome Rocky Mount Mills is, and how you are bringing in the New Year! Be sure to check in at Rocky Mount Mills or anywhere on campus and #rockymountmills
Q: Is the campus crawl rain or shine?
A: Yes
Q: Do we go inside buildings during the crawl?
A: But of course! How else would you get drinks or food!
Q: Do I need to bring ID?
A: ABSOLUTELY! We are not responsible if you are unable to gain entry or purchase into one of the breweries for failing to do so! Must be 21 to purchase alcoholic beverages.